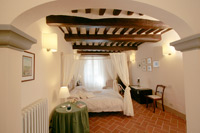 Pietro Berrettini House, now completely renovated respecting the original structure, is independent, silent, finished with great care and with the free public parking opposite the house.
The house is located in "Via Pietro Berrettinini", the typical path that leads from Piazza della Repubblica in the area of "Poggio", where you can discover some jewels of Cortona: the Church of St. Nicholas, the Church of St. Christopher, the Monasteries, the Basilica of Santa Margherita, the Fortress of Girifalco.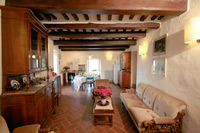 The tourist inevitably remains fascinated by the magical atmosphere and great views. In the main entrance you can admire the ancient and original fireplace of the Berrettini Family, worked in stone and engraved with the coat of arms of Berrettini Family, consisting of a shining star decorated with two crossed roses.
Pietro Berrettini House has Wi-Fi, TV-SAT, CD/DVD player, a small library with many books in Italian and English. All rooms in the villa are equipped with air conditioning.
Living room-kitchen
The environment is spacious and bright, furnished with sofa and armchairs, with panoramic terrace on Cortona where you can have breakfast or lunch, with direct access to private garden. The kitchen is equipped with large hob, big table, electric oven and microwave, toaster, dishwasher, refrigerator and freezer. The living room leads to a small room-laundry with washing machine.
Suite Pietro Berrettini
The suite Pietro Berrettini is a room with double bed, spacious and elegant. The room has a magnificent view over Cortona, a nice conversation area with single bed and private bathroom with shower Jacuzzi (sleeps 2 +1).
Suite Rina Maria Pierazzi
The suite Rina Maria Pierazzo, warm and comfortable, with elegant decorations on the ceilings, is a room with double bed. It also has a large living room with two single beds, private bathroom and shower Jacuzzi (sleeps 2+1+1).
Romantic room
The Romantic Room is a very elegant and spacious bedroom with canopy bed and comfortable furnishings. Bathroom with Jacuzzi (sleeps 2).